Ayesha took part in the Semester in Development in fall 2016. Over a year later, read her reflections of her experiences interning in Kampala, Uganda.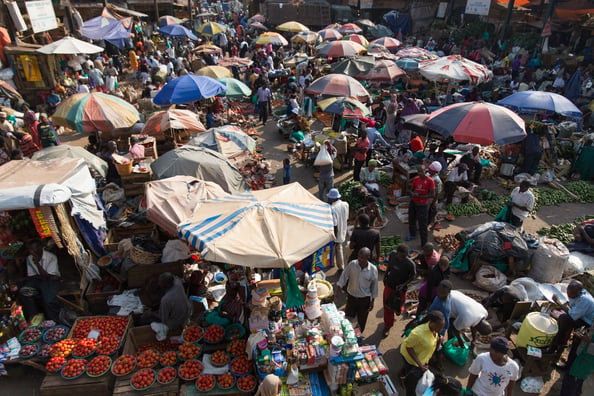 I have long been an advocate of travel. Perhaps it was a genetic trait handed down to me from my father, whose restless feet took our family somewhere new every summer break as a child. Perhaps it was because I was born in Kenya and lived in the Middle East for a while before settling in Canada. Perhaps it was both.
Whether it was due to my affinity towards travel or my inherent connection to East Africa, in my third year of university, I decided to pursue a study and intern abroad opportunity in Kampala, Uganda through the Vancouver-based education company Insight Global Education.
I had no idea just how much this would affect my life. My time in Kampala was both personally, intellectually, and creatively invigorating- and the impacts of my experiences there still reverberate through me today.
Before departing, I was a conflicting mix of confident and apprehensive about the next three months of my life. I believed my childhood spent in Kenya would prepare me for life in Kampala, yet I was also embedded enough into a Western life that the concept of living in East Africa again would be a distant unfamiliarity.
In a sense, both of these were true. Kampala is not like Nairobi, the Kenyan city I grew up in. The language is different. The food is different. The people are different.
And I was different too. I was older, and was living in East Africa as a student and a professional- not a child. I was exposed to things I never was before. The office culture of the Ugandan non-governmental organization I was interning at. The life of a student attending the local university. The commute to work and school that was not the backseat of my parents' car. The nights in bars, dancing to the mixed sounds of local and western beats alongside the fellow youths of Kampala. The art of negotiating a fair price at the various craft markets we frequented.
Yet in many ways, Kampala felt like a forgotten home to me. The drastic changes in weather from sweltering heat one minute to torrential downpour the next, the bright displays of fruit vendors alongside the roads, and the odd power outage that always came at the most inopportune moment all brought back memories of my childhood.
Once I stopped thinking about these differences and similarities, the path was clear for me to really internalise what it was like to live in the chaotic city of Kampala.
Kampala is a city encompassed in movement. The distinguished red earth roads are made well use of by cars, motorcycles, and pedestrians- all at the same time. The first step to living in Kampala is understanding how to navigate these roads without getting run over- a feat to boast of for any newcomer.
My transportation method of choice was the boda-boda. (Also known as a motorcycle.) My morning commute consisted of me meeting my boda driver outside my apartment building, hopping onto the seat behind him, strapping on a helmet, grabbing hold of the metal bar behind me, and zooming off to work.
The first time I did this, it was exhilarating. The twentieth time I did this, it was exhilarating. There is something magical in the sense of liberation you feel whipping through traffic, a cool wind hugging your body and a blur of faces passing you by as you come to memorize the morning rituals of the streetside kiosk owners you habitually pass.
I interned in a small local NGO that worked to give legal advice on land rights to local peoples in Northern Uganda. I even had the opportunity to travel with my co-workers to one of these little northern towns. Sitting in on a legal advisory meeting was a highlight of my internship experience. I watched the on-the-ground work of the organization, and learned about the logistics of the inner workings of an NGO. These experiences helped shape my idea of what a career in the nonprofit sector looked like, and what types of roles I saw myself fitting in.
My days off were spent exploring what Kampala had to offer- from venturing through East Africa's largest market which sent me into sensory overdrive to lounging poolside at the local country club. A Saturday night or two were spent amongst the partying youth of Kampala, and a Sunday morning or two were spent recovering from the night before - they do not party lightly in this city. A youthful population ensures that there is no shortage of fun. Kampala nightclubs and bars are electric with a youthful energy, as bodies sway to the latest music under bright neon lights and the haze of shisha smoke.
Kampala's youth are a mobilized, intellectual, artistic, and entrepreneurial bunch. During my time in Kampala, I went to concerts, festivals, art shows, and craft markets led by young Ugandans. In one boutique craft market, I met two women who were selling shirts and accessories adorned with the words 'FEMINIST' or 'QUEER' in bold letters. In a country where being gay is illegal, the movement created by these young women showed a sense of resiliency and progress that inspired me endlessly.
My time in Kampala came to an end all too quickly, and it was only in hindsight that I realised how much I had changed during my time there. I grew in a professional and personal scale. I made friends and memories I will hang on to always. I was inspired in creative ways I never had before. I gained a better understanding of who I was, and for the first time in my life, I felt like I was on the path to being the person who I wanted to be.
Have your own study abroad experience with Insight Global Education, find out more below.