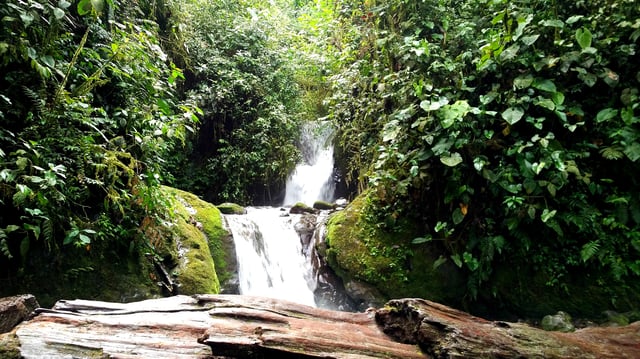 This morning we started the process of organizing and packing as we prepared to leave the Amazon. As much as we all longed to escape the humidity, large bugs and cold showers there was a senses of solidarity as we began to leave the place that had quickly become our home over the few days we spent there.
Despite the language barriers, relationships had started to form with the wonderful staff that worked at Sinchi Warmi. We had learned so much from our experiences in the Amazon that our day ahead became even more intriguing.
After eating breakfast and saying goodbye, we started the day with a two hour bus ride which was the perfect opportunity for a snooze. Before reaching Banos we made a few stops each being their own adventure.
One of these stops was a hike to a beautiful waterfall that was tucked away amongst towering mountains. There were different view points at the waterfall each proving to be just as amazing as the last, although some left you soaking wet while others you had to squeeze between boulders to reach.
In addition there was also multiple suspension bridges that you could cross, allowing you to see the waterfall from up above or off into the distance. The walk back from the waterfall proved to be much harder than anticipated as it was all on an incline making us that much more eager for the lunch that was waiting for us at the top.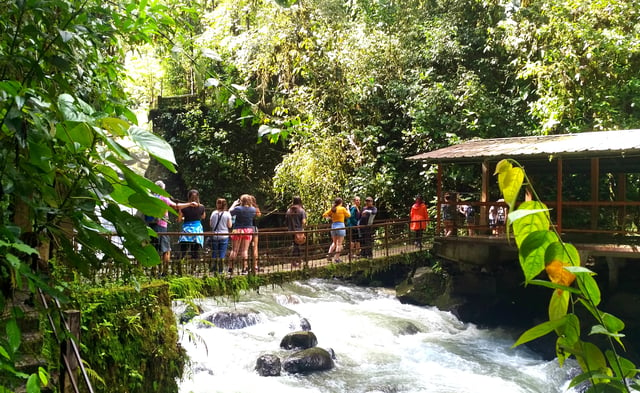 Lunch consisted of beef soup a meal of rice, salad, beans and our choice of chicken, beef, pork or the vegetarian option with black berry juice. Every bite was delicious and it gave us the energy to continue on our way.
The Cable Cars of Banos
Before entering into the city of Banos we stopped to ride the cable cars across the valley. Our cable car looked more like a large basket that was made of steel bars and painted bright orange, despite its appearance the cart proved to be very safe and delivered every one back.
The excitement in our group was clear as we slowly started to ride away from land and soar high above the ground below us. No matter how fearless you may be, there is always the twinge of panic in your stomach as you look down at the rushing river. This feeling leaves you wishing for the comforts of solid ground and at the same time leaves you longing to stay as the beauty surrounding you sinks in.
In the Town of Banos
When we finally arrived in Banos we dropped our stuff off at our hotel and then went on a walking tour of the city. The city is full of little stands selling candies, bracelets, bags and clothes. We stopped at a few shops and purchased some coffee, cake, spices, and other items that we may have needed.
Ivan took us to meet his friend to discus the challenges of the tourism industry and the importance it holds in Banos as 90% of the people are employed directly or indirectly via tourism.
For dinner, we had a wide range of food to choose from such as Mexican, Indonesian, Italian, Thai, American and Indian. As always, the food did not disappoint and nether did the live entertainment.
At the end of the day, we had a debriefing covering the events that took place over the past few days discussing themes such as social enterprises, sustainable businesses, biodiversity, and climate change.
It was another fun day and we all look forward to what the rest of this adventure will hold.
Rebecca Dick, Westview Secondary
To read more about student experiences on our Engage Ecuador program, click here to our previous blogpost.