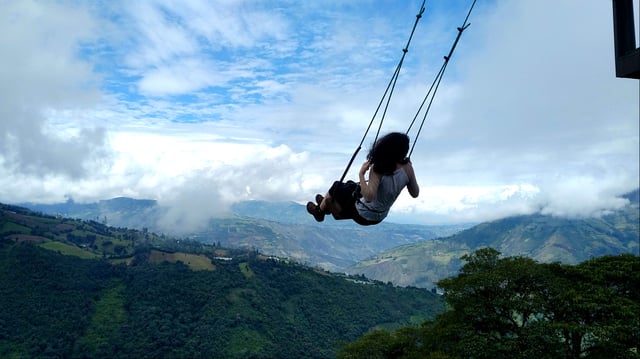 It's day 6 and today myself, and 10 others woke up in Banos, Ecuador for our last day in this incredible city. I woke up at 6AM and sat on the rooftop doing homework about what I have learned in Ecuador so far, while watching the sky flood with beautiful pinks and oranges.
Once breakfast hit at 9AM, I enjoyed some bread with the best raspberry jam I have ever had and perfectly ripened pineapple, watermelon and bananas topped with granola and yogurt.
The Swing at the Edge of the World
After breakfast we all met in the hotel lobby for 10AM, where we then drove 30 minutes to La Casa del Arbol, which is also known as, "the swing on the edge of the world" which is actually a swing on the edge of the world, or at least it looks like it.
The swing is great because everyone there was filled with laughter. It was a place where some of us conquered our tremendous fears of heights. Whether that was just by simply sitting on the swing and not actually swinging, or going all out and letting go of that fear. Some of us got a rush of adrenaline for the rest of the day from swinging above a forest and into the clouds.
Lookout Over Banos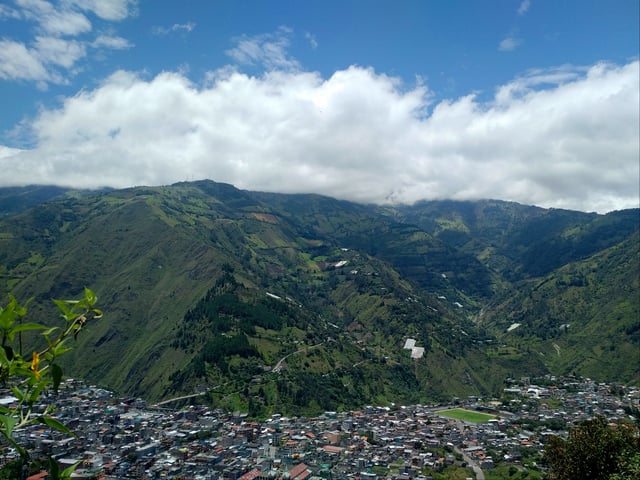 After the swing, we started at a lookout above Banos, one of the most beautiful sights I've ever seen, and the hike was all downhill. I had my fair share of falls, ruining my last pair of clean pants by falling into a pit of mud, which was okay because we all got a good laugh out of it. It was very sunny and breezy during the hike and we saw plenty of dogs walking up to the lookout.
After the hike, we walked back to the hotel, changed and went out for lunch after which we had the rest of the day to do whatever we wanted in Banos. Some of us booked massages in at the hotel, shopped in the small markets and street vendors, took naps and showers, and had an overall good time.
I personally bought an Aloe Vera leaf at a local supermarket because they did not sell any gels and I had pretty bad sunburn.
An Evening in Banos
When 6:30PM rolled by and we were all done doing what we were doing around the town, we met up back at the hotel where we decided what we were going to eat for dinner.
We all headed out to a nice place called "The Leprechaun" – a local hotspot with neat architecture, snakes carved on the railings and kind staff. We all shared some laughs over dinner, and even sang a little when a good song came on, like "Use Somebody" by Kings of Leon and "Money" by Pink Floyd.
I'm ending my day the same way I started it, by sitting on the roof of Pasada J, our hotel in Banos, and looking out at Banos' famous waterfall very close by.
Sara Grant, Westview Secondary
To read more about student experiences on our Engage Ecuador program, click here to our previous blogpost.