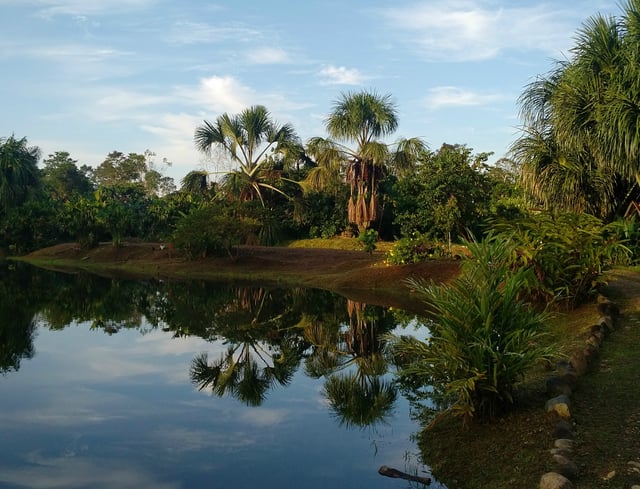 Today was our first full day in the Amazon. It was about 90% or more humidity and extremely hot! We started the day early with fruit salad (including oranges and tree tomato), scrambled egg, and a traditional pancake-like meal cooked in a palm leaf.
By 8am, we were on the bus to get to the destination where we would start our almost 4-hour hike. The rain boots provided were necessary! To start our guide created a crown for a king, queen, and princess out of only the leaves around him and found a plant that served as elf-like ear muffs for one person.
There was no true trail yet our amazing guide knew exactly where we were and pointed out all types of plants and animals, including tiny frogs and spiders.
On the Hike!
We saw monkeys playing in the trees, tarantulas hiding in the leaves, butterflies, and many ants to name a few! Inside one of the trees was the home of very tiny ants. When we ate them, they even tasted like lemon!
Shortly into the hike, we stopped to get an Amazon clay facial! The clay was applied in different designs, each with a slightly different meaning. One represented the mountains, one the rivers, and some anacondas.
As we continued, we noticed how the whole jungle works together while still competing against each other to grow taller. One palm tree had sharp spikes all over it, which were dry enough to start a fire if you were ever lost. The walking tree could move 15cm over its lifetime to reach more nutrients and sunlight.
When we got too hot, we used leaves as fans and bucket hats. Our guide even stopped to make a grasshopper and purse out of leaves! The seed from one tree acted as a natural hairbrush. We even learned how to climb a tree with a vine around our ankles! Our guide made it look easy but I could not get higher than one jump off the ground.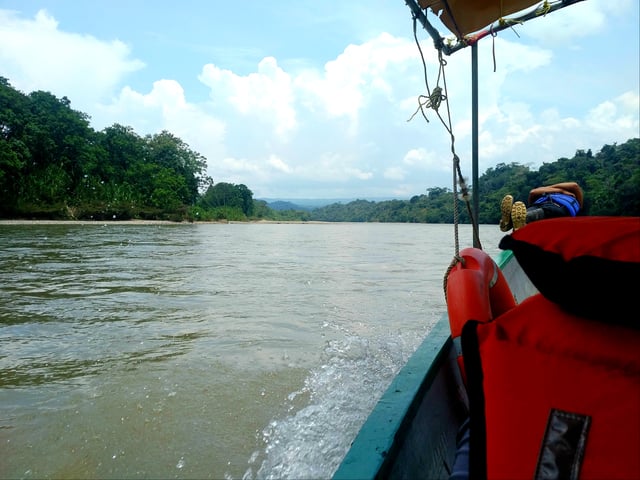 After our long beautiful journey through the jungle, we boarded a boat and headed for a section of the Napo River to pan for gold, which was lots of work. We took the boat back to shore and walked back to our huts at Sinchi Warmi.
After a broccoli soup, chicken, potato, vegetable, and garlic sauce lunch, we took a break then headed for a smaller yet challenging hike to a waterfall. It was about 30 minutes and very muddy but worth it!
The waterfall was beautiful and amazing to swim in! Everyone needed it after the hot walk to get there. A smaller waterfall even had a rope swing. When we got back to the town, we stopped for a quick snack – thick, juicy, grilled worms! A few were brave enough to even eat the crunchy head (we just told ourselves it was chicken).
Amazonian Critters
After walking across the shaky bridge, because the bus would be too heavy with all of us on it to cross it, we returned to the huts. We had time for a shower before dinner (a type of potatoes and vegetables). After dinner, some of us even held the tarantula that is here at Sinchi Warmi!
Definitely a risk for those of us who are deathly afraid of spiders. Our guide even let it hang on his face! After taking a break in the hammock and being bit by mosquitos, we went to bed with our mosquito nets (since there was a tarantula spotted in one of the rooms and cockroaches) and prepared for the next early morning.
Heather Kelly, Westview Secondary
To read more about student experiences on our Engage Ecuador program, click here to our previous blogpost.