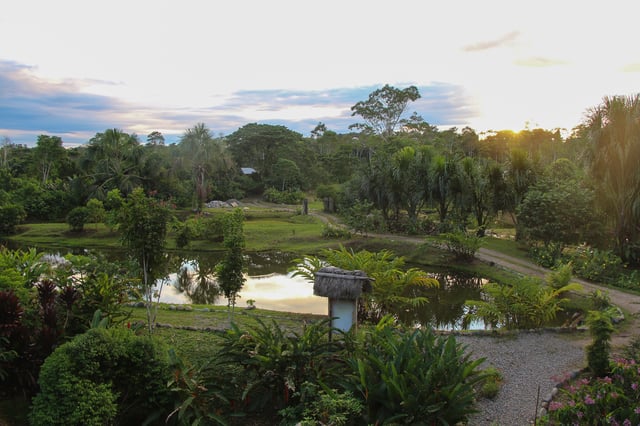 Today we woke up and enjoyed out last morning in Quito. We started off the morning with a great breakfast and then headed off to the local market to stock up on food for the long trip ahead of us. All of us then loaded on to the bus and headed off to Pappallacta, in the middle of the Andes mountains.
After our 2 hour trip on the bus, we all got off and headed on an amazing hike through the cloud forest. On the chilly walk, we were all stunned by the breathtaking views of the vegetation on the hillside, the river, and all of the wildlife. We then headed off to the hot springs, which was very relaxing and warm after our short hike.
At this point in the day, we had all worked up quite an appetite and headed for lunch at a small little shop. We had a somewhat unusual start to our meal with the first course. It started with soup with parts of a whole chicken inside. We were all quite full at this point yet they came out with our second course with the choice of beef, chicken or trout then rice, fries and salad.
To top it all off we even had a large glass of the sweet homegrown tree tomato juice, not to be confused with regular tomatoes. I have definitely realized that the portions here in Ecuador are significantly more than I am familiar with.
Arriving in Napo Province
We then drove down through the mountains, into the Amazon, to reach our final destination in Napo province, called Misahulli. The indigenous lodge that we then arrived at made the 3 hour drive completely worth it. We all were settled into our cute little rooms and then went out to the main area for our dinner. We enjoyed a lovely meal with live music playing as the community welcomed us.
After meeting some of the locals and finishing our dinner, we went and explored around. We found some hammocks to relax and enjoy the rest of our night while watching the stars and listening to the wild life of the rainforest.
Courtney Hogarth, Thomas Haney Secondary
To read more about student experiences on our Engage Ecuador program, click here to our previous blogpost.