Kampala is a bustling city of never ending movement. At first, traffic hour in Kampala can seem like an chaotic swirl of people, cars, and motorcycles. But the more acquainted you get with the roads of Kampala, the more you will be able to see the harmonious pattern to the traffic here, reavealing a paradoxical system of organized chaos.
When living in Kampala- no matter how short or long you plan on staying- finding a way to get around is a rite of passage to truly knowing what it means to live in this hectic city.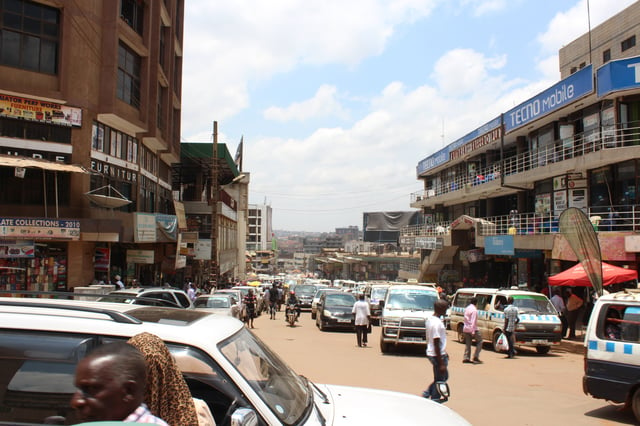 Kampala's roads can be a chaotic, here's how you can guide your way through these busy streets with ease!
Here's a breakdown on the three main methods of transportation and how to get around in Kampala:
The Matatu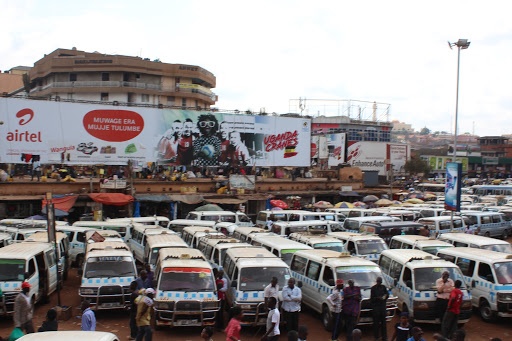 Signature white and blue matatus parked in the main matatu stand in Kampala.
Matatus are minibuses that can be distinguished in Kampala by their white colour and light blue checkered pattern. (As opposed to Kenya matatus that are often spray painted with various images and colours.) Matatus are unique to East Africa's public transportation system.
To catch one, you'll simply have to flag one down. This is much easier than you think. You can barely walk a street in Kampala without a Matatu honking for your attention. If you need one, you'll usually signal to the driver that you want to get on, and he'll stop for you. From there, you'll ask the conductor if they're heading in the direction you need. If they are, you'll pass your money to the conductor and squeeze into a seat. Make sure you know when to get off, as there will probably need to be considerable navigation to get out again.
It's also important to keep a watchful eye on your belongings while in a Matatu. As you're so close to others it is quite easy for someone to reach into your bag and grab your wallet. Unfortunately, as a foreigner you'll already be sticking out and will be thought to be more of an easy target. Watch out for people trying to distract your attention away from your belongings!
However don't let that put you off, matatus are also great ways to meet locals! You'll find people on public transportation much more open to conversation than back at home. This is a great chance to immerse yourself into the city and learn more about its people.
Bo

da Boda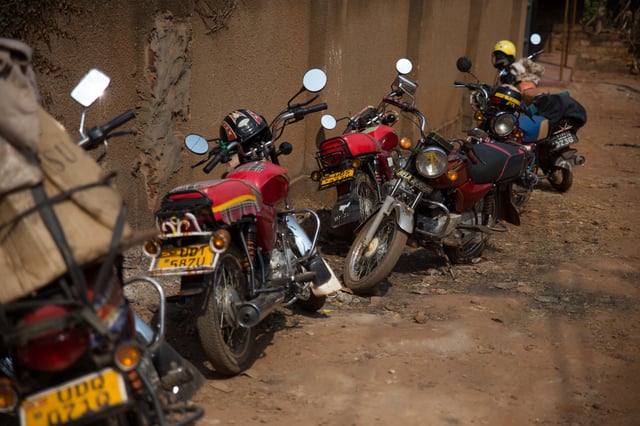 Some boda bodas parked alongside a wall in Kampala.
Matatus are the cheapest option for getting around Kampala, although the tight quarters and jerky driving can definitely put some off. Another option that provides some more fresh air is the boda boda- or you might know them simply as motorcycles. It is important to note that taking just any boda boda can be unsafe, as drivers can be known to be fast and swerve quite a bit. They also don't usually provide a helmet for their passengers.
However, in Kampala an organization called SafeBoda has provided a safer means of getting around by boda. SafeBoda drivers are hired specifically by the company. They are safer drivers (hence the name), are trained in first aid, and take less risks than drivers who don't work through an organization.They also provide a helmet for their passengers (with a fresh disposable hairnet.)
Safeboda's bright orange logo is instantly recognizable!

You'll be able to distinguish a SafeBoda driver by their neon orange vests and helmets. You can also use the official Safeboda app to request one to your current location. They have posts scattered all over Kampala so there is never one far away!
Taking a boda can be an exhilarating experience. Kampala traffic hours can be brutal, with hours spent idling by in your car. In a boda, you'll be able to weave through that traffic and get to your destination in a quarter of the time it would have taken.
It should also be noted that you shouldn't hold on to your drivers waist when on the boda! There's a metallic bar on the back of your seat to hold on to- but once you start taking bodas more often, you'll find you won't need to hold on at all!
Uber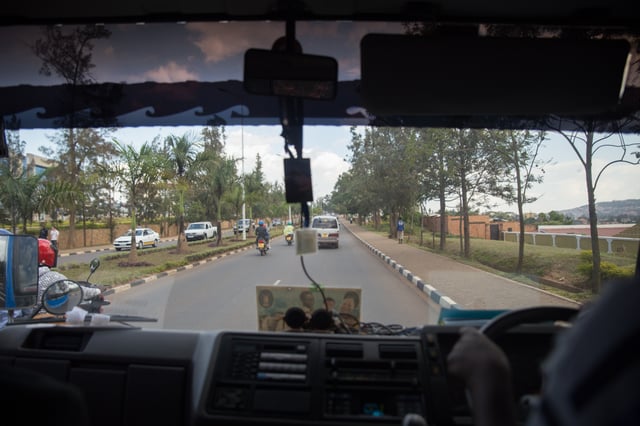 Enjoy driving around Kampala in the comfort of a car, while also chatting with local uber drivers!
If you want to go somewhere a little farther away and you're not too keen on being on a boda or matatu, another option is taking an Uber!
Kampala's recent addition of Uber has been well received, giving car-owners an opportunity to make some money and commuters a new option of transport. Uber is the most expensive option of the three on this list so it's best when going somewhere with a group of people. That being said, Uber costs are usually no more than $2-5 CAD for an average trip, and very rarely going up to $6-8 for a slightly longer (45 minutes to an hour) trip!
To use Uber, you'll need to download the app on your phone and set up account with payment information. Then, whenever you need a ride, simply open the app and request a ride to you destination. The app will give an estimate of how much the trip will cost and provide a map of where the closest Uber driver is so you can have a good idea of how long it will take for your car to arrive.
It should be noted that you need wifi or data to use the Uber app, so keep that in mind when planning your trips.
Now that you have a clear idea of the main methods to transport you'll be able to navigate your way through Kampala with ease! However, if your destination isn't too far away, it's daytime, and it's not pouring rain outside, walking is also a great option to get to know Kampala's streets even better!
Click here to learn more about Insight Globals Education's study and intern abroad opportunities in Uganda!